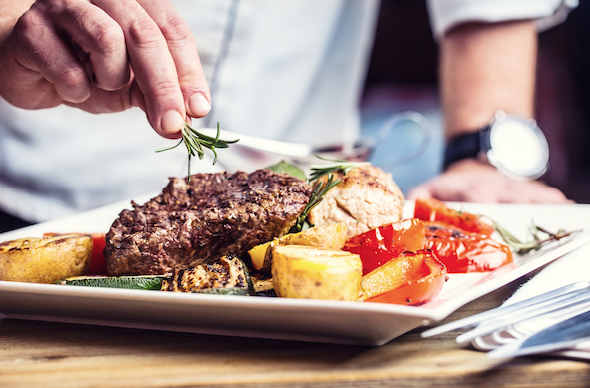 Whether you're on a 30-minute lunch break or you want to enjoy a date night away from the kids, come experience an amazing culinary adventure at Eatzi's European style eatery. Throughout the week, you can visit Eatzi's Plano, where chefs create crafted delicious meals in an intimate but casual atmosphere. Daily specials throughout the week deliver great food to great people. Here are some of our favorite days to visit Eatzi's Plano.
Monday
While our perceptions about Mondays are not really that great, why not make the day more exciting again with a quick visit to Eatzi's? On Mondays, enjoy a tender, juicy bone-in 10 oz. pork chop, seasoned, grilled and prepared to perfection. It's served with an unforgettable jalapeno BBQ sauce that is spicy and sweet.
Wednesday
In the middle of your long week, take a break with searching for the right answer to satisfy your southern cravings. Savor the flavor with a classic Texas dish done the Eatzi's way. Enjoy a tender beef rib-eye marinated in a special buttermilk mix. Submerged in a seasoned flour and fried to a golden-brown excellence.
Friday
The Friday feeling we've been anticipating is finally here! Make Friday a day to celebrate a weeks' worth of hard work by heading over to Eatzi's Plano, and enjoy a double feature of food specials. First, enjoy homegrown lightly fried catfish paired with hand-battered hush puppies for a classic dining experience. Later that afternoon, come out between 4 and 9 p.m. to try the enjoyable ultra-thin pizza for $12. For only $28, make it a special meal for two and receive a salad, pizza and a chef-selected bottle of wine. This popular special is perfect for a ladies' night or a romantic date for two.
Are you getting hungry now? There are so many other exciting special days throughout the week. Come out to Eatzi's at the West Plano Village and enjoy one of their daily specials. Indulge and experience a one of a kind food adventure.
Photo Source: [626311516] Thinkstock