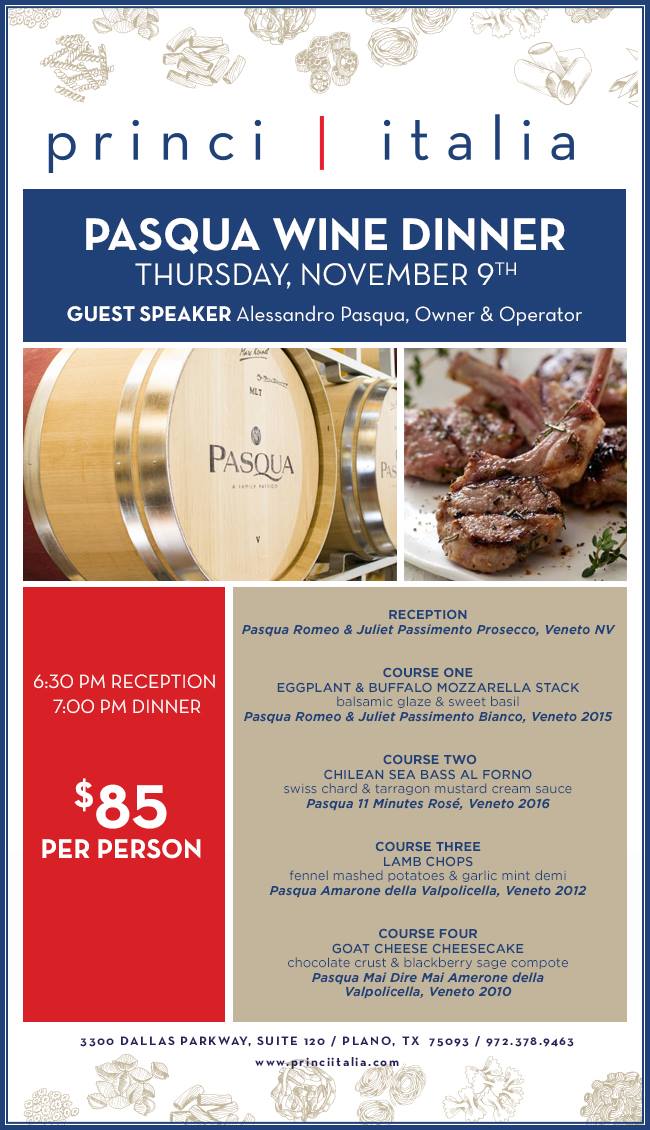 Do you need an elegant weeknight out to segway you into your weekend?  We have you covered. You're invited to the Pasqua Wines Dinner at Princi Italia Plano. For $85 per person, come join the team on Thursday November 9th at Princi Italia for a night filled with great food, amazing Pasqua wines, and an informative guest speaker.
Let your taste pallet explore the Tuscan favorites of Italy in your own backyard at this delightful Plano eatery. A 2017 Diners' Choice Award winner, Princi Italia serves seasonal Italian favorites dishes, as well as homemade pastas, fresh vegetables seafood and Napolitano-style pizzas in a heartfelt Tuscan farmhouse setting. Guest will enjoy stunning architecture bestowing high ceilings, large picturesque windows and a delightful covered patio.
Prepare yourself for a night full of delicious food featuring an amazing four course set. Course number one features an eggplant and buffalo mozzarella stack, with balsamic glaze and sweet basil. The second course introduces a Chilean sea bass al forno with swiss chard & tarragon mustard cream sauce. The spectator course number three presents tender lamb chops served with fennel mashed potatoes and garlic mint demi. Course number four caps the night off with a delicious goat cheese cheesecake featuring a chocolate crust and blackberry sage compote.
Join us for a unique wine experience featuring Pasqua Italian hospitality and food! Hear from guest speaker, owner and operator, Alessandro Pasqua. Reception begins at 6:30pm and dinner starts 7:00pm. RSVP your spot at 972-378-9463. Visit us at 3300 Dallas Parkway, Plano, Texas 75093. Stay connected with us to find out about this event and more at West Plano Village.
Photo Source: Princi Italia