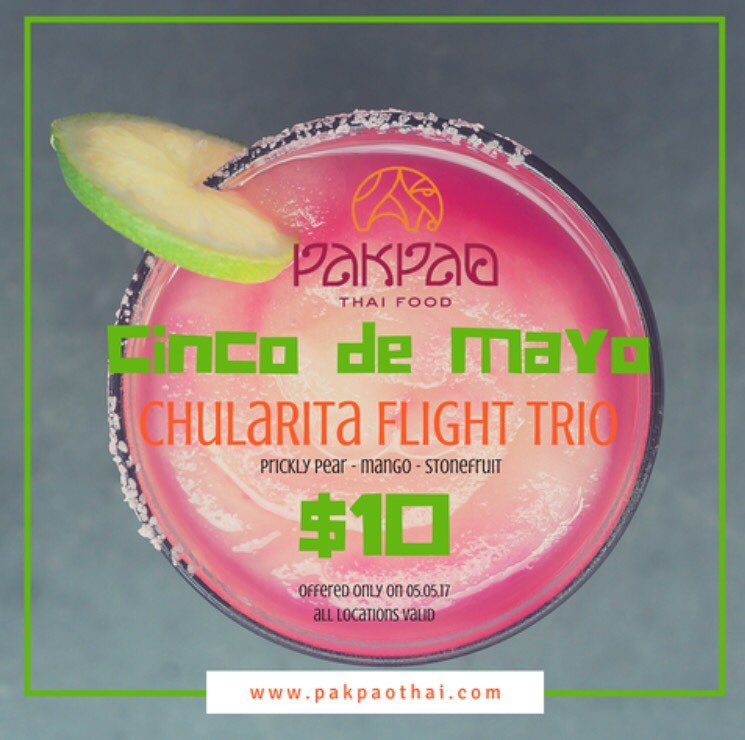 It's Cinco de Mayo, and we are so excited to celebrate this Mexican tradition with our West Plano Village family! So what is there to do on Cinco de Mayo in Plano 2017? We explore all your Cinco de Mayo options below:
Kona Grill 
Kona Grill knows how to throw a Cinco de Mayo party and this year is no different! Enjoy Kona's Taco Trio and Margarita's from their Happy Hour menu and celebrate the best of Mexican! Book your place at Kona Grill now on (214) 945-2500.
Mi Dia From Scratch Plano
Join Mi Dia from Scratch Plano for a Cinco de Mayo celebration! Mi Dia from Scratch will be offering festive drink specials, including $5 Mi Dia Frozen Overs and $5 Mi Dia Rita Rocks. Mi Dia from Scratch was also featured in the blog post 'Where to Celebrate Cinco de Mayo in North Dallas' by Love You More Too. Book your table with Mi Dia from Scratch on (972) 403-7474.
Pakpao Thai
Celebrate Cinco de Mayo with Pakpao Thai's ChulaRita Flight Trio for $10. Including Prickly Pear, Mango, and Stonefruit! Book with Pakpao Thai Plano on (972) 378-1224.
Still not sure about where to go to celebrate Cinco de Mayo? We highly recommend going to ALL of them tonight! We hope you have a great Cinco de Mayo in Plano 2017, friends!
Photo Source: Pakpao Thai