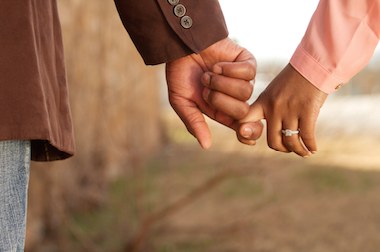 The fall season, is one of the most perfect times to prepare for that special moment as a couple. If your sweetheart has an infatuation with the fall season, team up with Nasr Bros Plano and think about proposing during this wonderful time of the year. Proposing with these holiday season engagement ideas may be the best thing you can do to guarantee a loving "Yes".
Propose outside
Take advantage of the beautiful available surroundings of the leaves changing and falling. The fluctuation of colors looks remarkable in any engagement photos. For a little extra fall celebration throw in something holiday related such as a pumpkins or candy canes
Make sure to look the part
The fall season wardrobe offers some unique fashion-forward trends. Flannel, leggings, denim jeans, sweaters, scarves are all a must this season. However, when capturing the special moment, we don't want to look back and regret our fashion choices. Dress comfortably, but make sure to polish up for the tremendous occasion.
Don't tell anyone that can't keep a secret
Including family and friends in your proposal is such a wonderful experience to share during this time, but be careful that no one will spoil the surprise! No matter how you choose to prepare for the big day, make sure to keep the special occasion a secret.
Fall is such a gorgeous time of year to incorporate holiday season engagement ideas. The sunlight is great, the changing leaves make for an elegant backdrop, and there are so many fun fall activities you can do that will result in beautiful candid photos. If you do plan your engagement session for this fall, take advantage of the scenery, autumnal activities and help from Nasr Bros Plano.
Photo Source: [digitalskillet][521604472] Thinkstock